Best Answer rickjohnson45@gmail.com , 22 August 2018 - 10:37 PM
fuzzymoomoo, ice-capades, RPF, and all other commenters,
Wow. It arrived today. Almost everything you experts said was true. Build date was 08/2018, so Aug 3 was a pretty good guess.
Albuquerque rail lot did not produce reliable shipping info. Last Thursday, the estimated ship date was Monday 8/20. On phone Tuesday he said it had left the lot. Today I asked the driver and he left Albuquerque this morning (Wednesday). Oh well, I am now a VERY HAPPY CAMPER. And yes, I have a Lance 1181 Truck Camper (4400# dry weight without liquids and the myriad of belongings that we take) that will ride on my new beast. It is OK. I have a cargo capacity of 6500#. I chose the 6.2l gasser and I really like the engine on the first few miles. Specs compare favorably with my 2004 6.0 diesel, more horses but less torque. Here is the first view I got of the truck: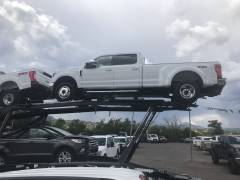 Thanks all again for being so helpful.
Rick
Go to the full post