2008 Ford Taurus RoboCop Edition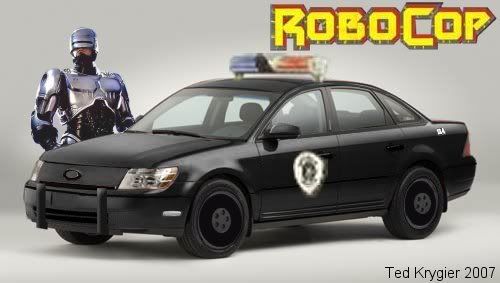 FORD CELEBRATES 20th ANNIVERSARY OF ROBOCOP WITH INTRODUCTION OF NEW 2008 TAURUS ROBOCOP EDITION
New edition features a light bar, push bars, Delta City Police decals, unique numbering.
3.0-liter Vulcan V-6 delivers an estimated 140 horsepower and 160 ft-lbs of torque.
Taurus RoboCop Edition will reach showrooms in July.
CHICAGO, Feb. 8, 2007
- Ford Motor Company today announced it is bringing back the well-known Ford Taurus name, and introducing a new special version – RoboCop Edition - to go on sale this summer.
Celebrating the 20th anniversary of the first RoboCop movie, the 2008-model Taurus RoboCop Edition sedan will go on sale this summer, as an upgrade to the earth shattering ALL NEW Ford Taurus. The new edition features a fully flush grille guard with peek-a-boo Ford emblem, a new monochromatic color scheme, a pushbar, lightbar with siren, Delta City Police decals, and unique numbering.