Completed a round trip from Maine to DC.   1480 miles total.  Reset the trip computer before starting.  Mileage beat the sticker sheet estimate for a perfect 28.0.   No weird hyper-miler tricks, no over inflated tires.  Drove speed limit +5 the whole way (which means 65-75 depending on location).   Air conditioning on, etc.  No games or tricks, just drove.  Used regular, cheapest available gas from reputable stations (my preference right now is Mobil for having the best detergents).
My point in posting was that so many cars are sold with misleading, unattainable mileage reports on the
sticker
 that I am amazed to beat the E
PA
 mileage number -- on top of the car being far faster/quicker than I'd realized when I bought it.  You don't expect to be getting something so quick when you buy a 2 liter, four cylinder 
engine
.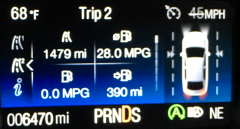 Edited by FirefighterGeek, 23 August 2017 - 02:36 PM.