Site Rules
 
Welcome! These forums are here for anyone to post on. We do not limit registration to anyone nor do you need to own a FoMoCO vehicle to join. We hope you find this website and its forum an informational and enjoyable place to visit.
 
This forum is considered to be a "self policed" forum. That is to say, the moderators are instructed to only moderate when required and react to issues, rather than seek them out. In exchange for this light handed approach, we need to trust our members to govern themselves, and use the "Report Post" feature when they find something that violates our rules or general "family friendly" environment.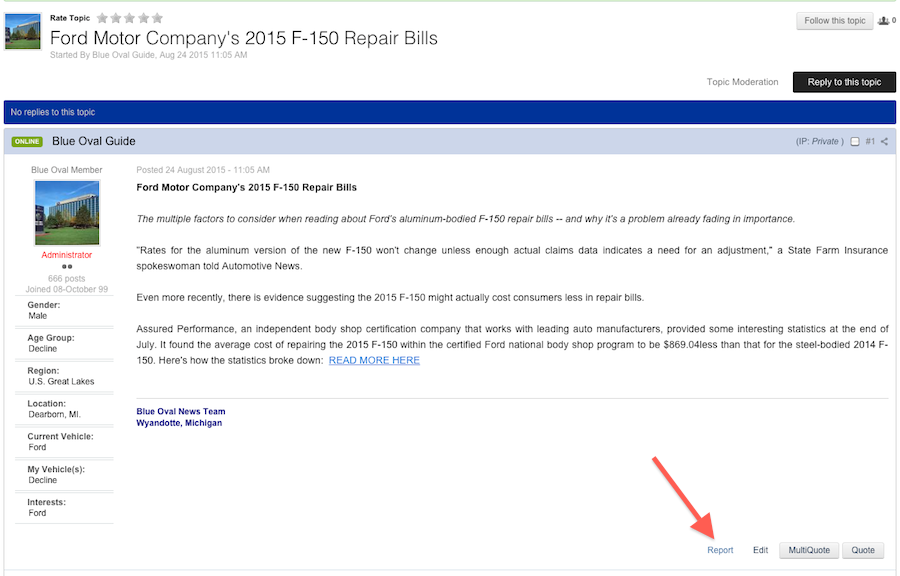 to report a post, hover over the tool bar underneath the post and click on the "Report" link. 
We choose staff members very carefully, selecting those individuals we believe understand the "spirit" and character of our community. We trust these folks to make decisions and judgment calls that always keep within that spirit. In other words, read these rules to get a feel of how we run this place and do your best to keep within that feel. If a staffer contacts you in regards to these rules and guidelines, always remember they do so in order to keep this place within those guidelines and that their judgment is to be respected as such.
 
If a member is found to have deliberately broken one of the rules or guidelines, then a staff member may issue a warning or an infraction depending on the violation.
 
How Do The Staff Do Their Jobs?
 
These forums are managed on the basis of moderators having discretionary authority to make decisions as circumstances require. While this gives them considerable authority, they make it a point to be transparent to the membership and consistent in their attitudes and decisions. Furthermore, when new things necessitate changes in standard general practices, they will try to ease the affected parties into the change as gently as possible without penalty during the learning process.
 
This is not the forum where you should be looking for a "show-me-the-rule" discussion to have any rightful place. This forum does not work that way. The staff is far more concerned with maintaining the spirit of the community rather than the letter of any law. If any member chooses not to live within that broad spectrum, it is the staff's job to first remind -- either publicly, privately or both at the the staffer's discretion -- and guide them back onto an acceptable path. If transgressions continue, moderators and admins will usually graduate first to formal warnings, followed by formal infractions which increase in severity. Again at the discretion of the staff. However, should a moderator or administrator decide to go straight to severe sanctions and skip the intermediate steps, that is also a reserved prerogative.
 
Decisions taken by staff members are often group decisions. Remember there is an entire forum here that is invisible to all but the staff here. Very often, when a situation presents itself that situation will be discussed in a roundtable before action is taken.
 
Private messages to moderators about issues, the business of this forum, infractions received etc. are subject to review by the entire staff. Oftentimes a member brings up an issue where the situation will be better resolved if everyone gets a chance to go over it as a group.
 
Moderators
  akirby
  Intrepidatious
  RichardJensen
  robertlane
  silvrsvt
 NickF1011 (in memoriam)
 
Help?
 
Click here for help on how to use this site.